Galway Racecourse plays host to one of the greatest race meetings in the world, the famous and iconic Galway Races Summer Festival, that boasts seven days of superb racing, hospitality, entertainment, stunning fashion and an electric atmosphere that continues to draw people from Ireland and abroad to experience the magic that is 'The Galway Races'.
---
Over 250,000 people attended the Summer Festival Meeting in 2016 where betting turnover reached great heights once again. The total prize fund for the fifty-two sponsored races reached an impressive €1.8 million. The town has a real buzz at night, with hangovers aplenty the following day. 
Galway Poker Festival
The iconic Summer Festival returns on Monday 31st July 2017 and if you fancy a bit of poker after races, Galway is ready for poker players too!  Finalized Schedule. €40k+ GTD. All one day events. 100%. All cash payouts. Trophy for every event. It's rare for players to experience a live poker event quite like the Galway Poker Festival.  Galway poker festival brings all of it! The main mentor and founder of the Galway Festival is poker player and high-stakes commentator for Kings Casino Rozvadov Fintan Gavin who is well-know in irish poker community.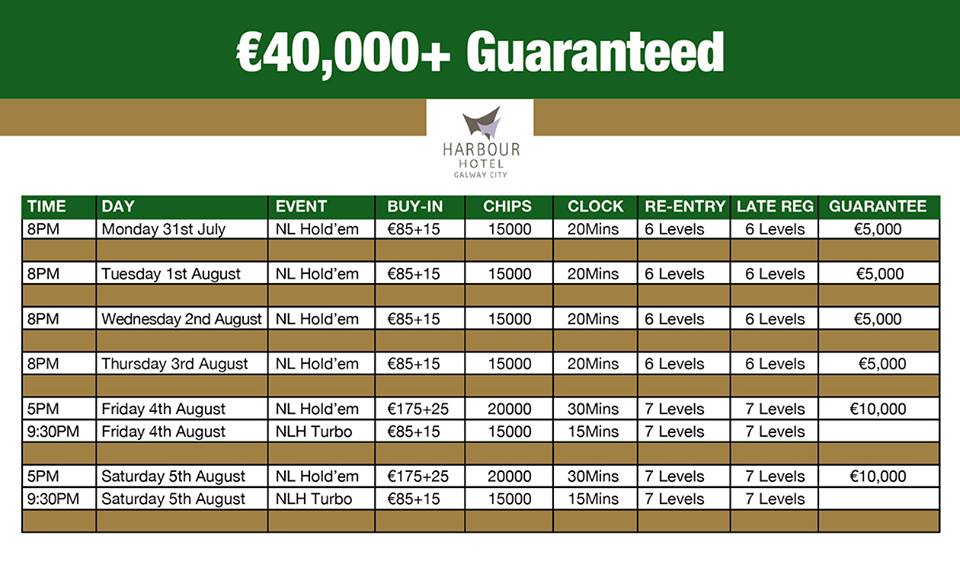 Galway Poker has secured the Harbour Hotel in the heart of the city centre for the duration of the Racing festival. It's newly re-furbished bar, restaurant & conference room, late bar & full menu available, secure parking and free Wi-fi. All of this makes it the perfect venue for Race week. It is a joyous, fun-filled seven days, where people might leave with a few less Euros than they had when they arrived, but they also leave with great new experiences, new friends and a time that will never be forgotten.  Get ready for Galway Races&Poker Rumble! More information: Galwayraces.com