Card Casino Bratislava has prepared a real bunch of festivals for all passionate players during the next year. The well-known Grand Prix Festival will start the New Year 2023 in January. A great €100,000 Main Event guarantee and super-low €100 buy-in make this tournament accessible even for players with a smaller bankroll. In the following months, the casino will not slow down and poker players can enjoy even fantastic €500,000 guarantees! Let's take a look together at what is waiting for us, and what you can look forward to in the biggest Slovak casino!
---
JANUAR 2023: Grand Prix 23.-29.1.2023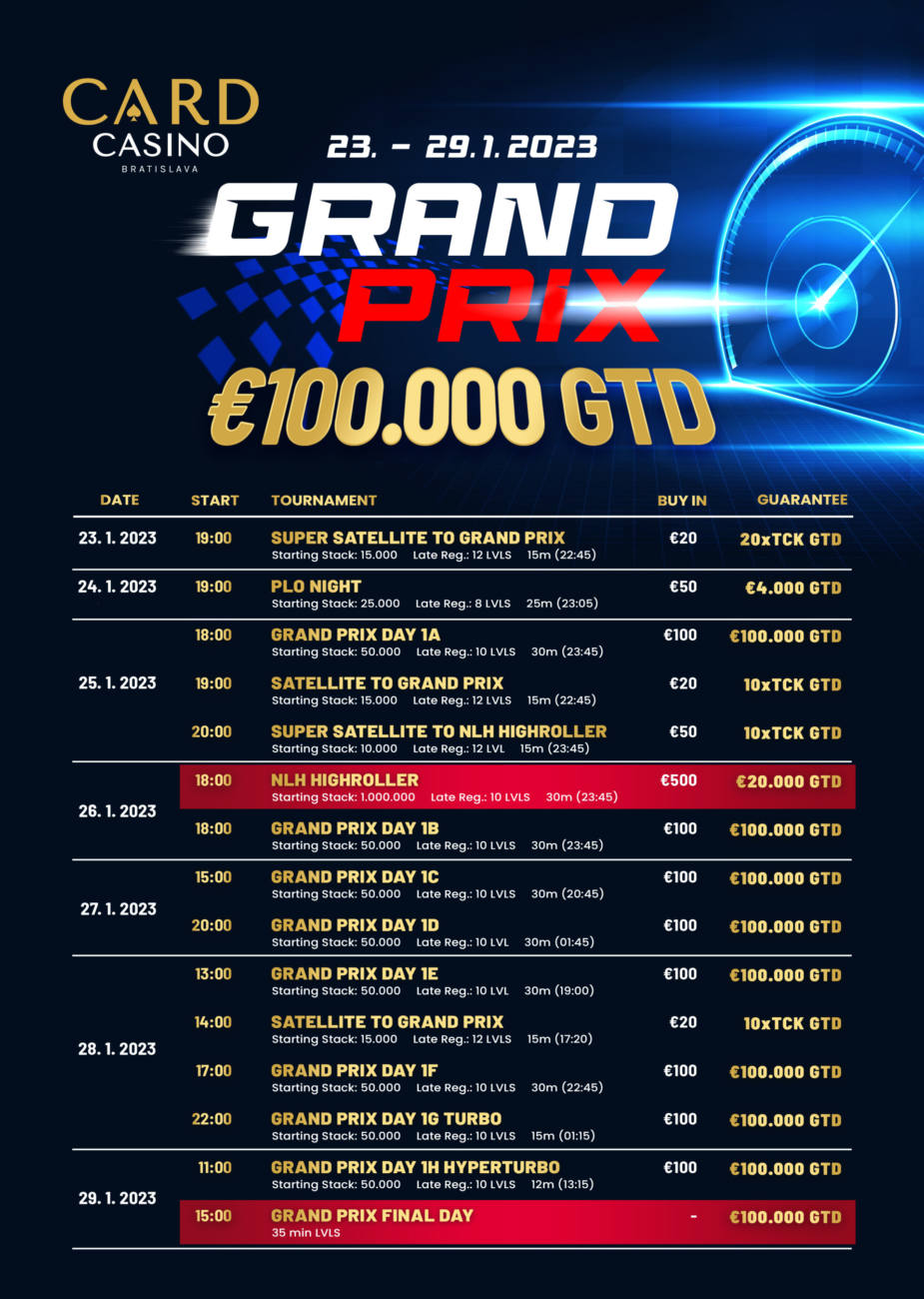 FEBRUÁR 2023: Card Casino Royal 12.-20. 2. 2023
In mid-February, players will be waiting for the 2nd edition of the Card Royal event with a fantastic €250,000 guarantee and a €200 buy-in. Players can choose from 7 starting days or can qualify for individual flights through the qualifying phases with a lower buy-in of €40+€5 (20% of players advance). The exclusive NLH Highroller with a €1,000 buy-in and a €50,000 guarantee will not be missing!
Another interesting festival named Italia Play with €400,000 GTD (February 27 – March 6, 2023) will follow Card Royal in exactly one week later. The Italian festival will bring the Main event with a €300,000 guarantee and a €300 buy-in. There will be many qualification possibilities with at least 70 tickets GTD to the Main Event! Check out the full schedule below.
MARCH 2023: Norgesmesterskapet festival 23.3 – 2.4.2023
The 20th anniversary of the largest Norwegian festival called Norgesmesterskapet will undoubtedly bring a unique experience to Bratislava. Local players can look forward to a good dose of poker adrenaline, which the playful northern players will bring with them. The festival will last 10 days and in addition to 8 unique Championship events (open to Norwegian players only), it brings a lot of side events for everyone! The festival also includes the Poker North Masters – Card Bratislava event, which will be open to all players and will carry a fantastic €500,000 guarantee!
I will bring you more information about the possibilities of live and online qualifications in the next article, in which I will also describe the atmosphere of this fantastic festival in detail! If you would like to know more now, see the official program of the festival here: NORGESMASTERSKAPET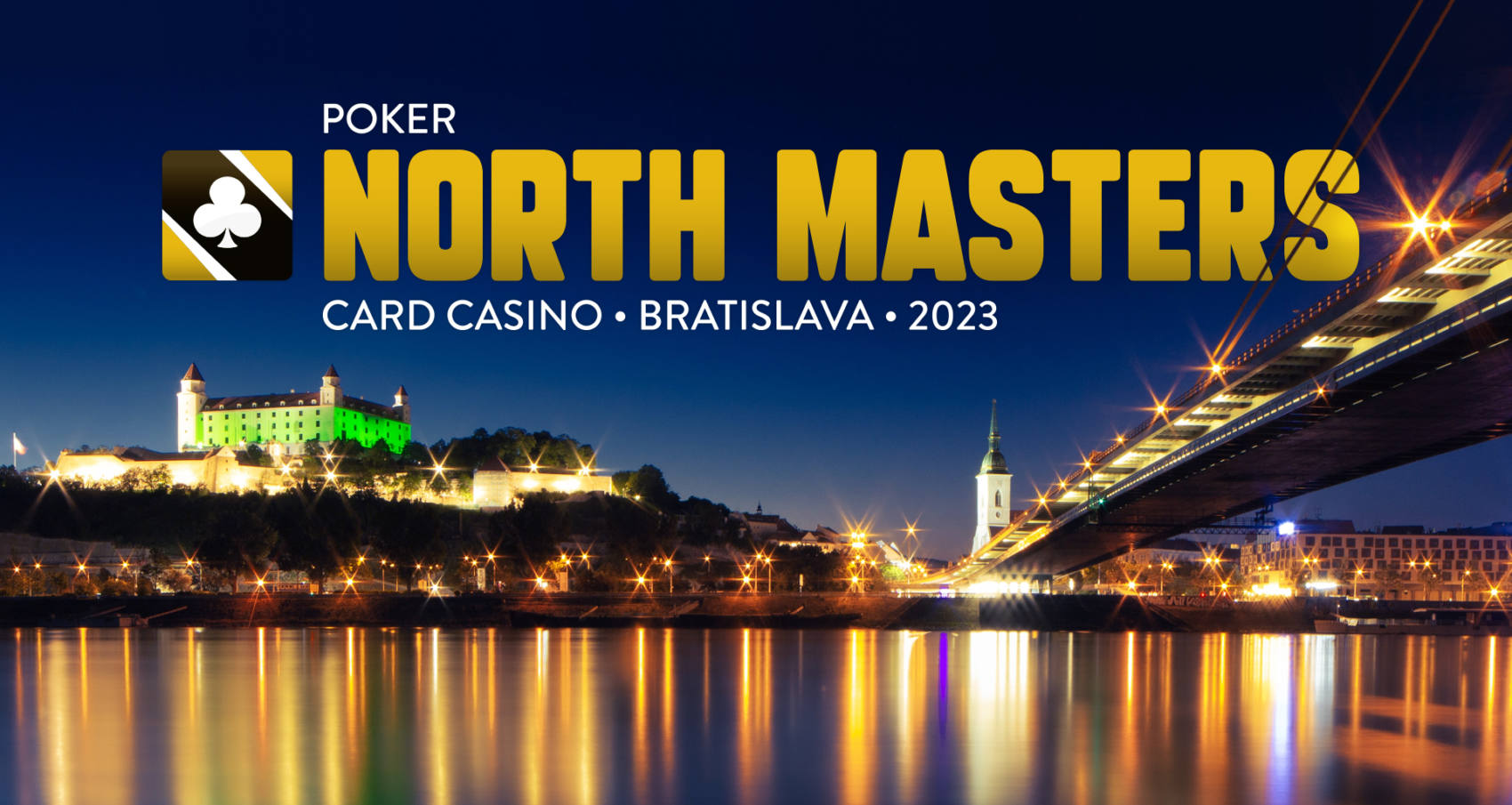 MAY 2023: World Poker Tour Prime 
Do you still remember the year 2009 and the good old Golden Vegas in Podunajské Biskupice? Yes, this is where the first stop of the WPT took place in Slovakia. The WPT Main event with a high buy-in of €4000+400 generated 100 entries. Hungarian Pokerstars Pro Richard Toth became the winner. After many years of waiting, the world-famous festival returns to Slovakia in May 2023! Will someone from the Slovak poker community manage to win the title of WPT champion?
I believe that no poker enthusiast will miss the World Poker Tour Prime in Bratislava and its fantastic atmosphere. For more information, follow the official website of Casino Bratislava, or worldpokertour.com
If you would like to participate in any of these events at Card Casino Bratislava, feel free to contact me for the hotel or travel deals: info@allin1.sk