Ireland is definitely a country of specific poker, but also of large, prestigious and international poker festivals. Irish people cheerfully played their cards on their green island from mid 70s. The most favourite type of game were 5 Card Draw and 7 Stud poker. A few years later, the almighty Texas Hold'em came to Éire. The largest poker boom in Ireland was assigned to Irish poker legend – Terry Rogers. The main founder of the Irish Open Poker Festival in 1981, and what was the situation like in my country? Well, here in Czechoslovakia, the communism ruled the country alongside with totalitarian government and centrally planned economy. The term poker is still undiscovered and deeply hidden in the dictionary of foreign words and taboos.
I spent six years of my life in Ireland, and I saw incredible things that you can only experience here. Ireland is really mesmerising country and despite of very unpleasant and schizophrenic weather (365 days a year) this country got piece of my heart forever.
---
Today, on this green island there´re regularly organised world famous poker festivals such as the European Poker Tour, World Poker Tour, Irish Open, Dublin Poker Festival, Winamax Poker Open, IPO, or Norwegian Championship and many others. In this article,  we will forget about poker for a moment. Let´s get a closer look at another side of this interesting country. Let´s zoom it from a different perspective. Let´s see the funny one!
Welcome in Wonderland, or Only in Ireland!
Ireland has a thousand shades of green, but the same number of warning signs with the sheep and each sign is different. Next to this atypical signs on narrow roads, you may find a crazy deep potholes into which you can fit the whole person. After filling with rainwater it looks like pretty relaxing jacuzzi. Also on other side of the road, there is a sign of the maximum speed of 80km. What totally kills it is that, under this sign is another handmade sign, (made by Irish farmer) that says: Danger fcking holes in road, look for arrows!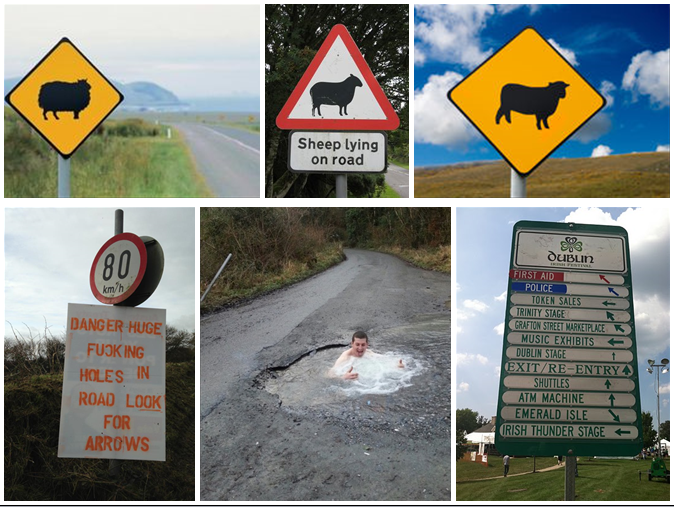 Sometimes, road signs are quite confusing, even when it comes to official signs. Often, You do not know where you should actually go. The same location is shown on both sides. Do not be intimidated by red warning signs on the lawn either. How can you not love Ireland for its spontaneous openness!?
The funniest part for me always were the original announcements on piece of paper at the local shops. Reply to dissatisfied Burger King customer is also very uncompromising. This guy wrote a complaint on their official facebook website. Look what he got as reply. Do not mess with Burger King, guys 🙂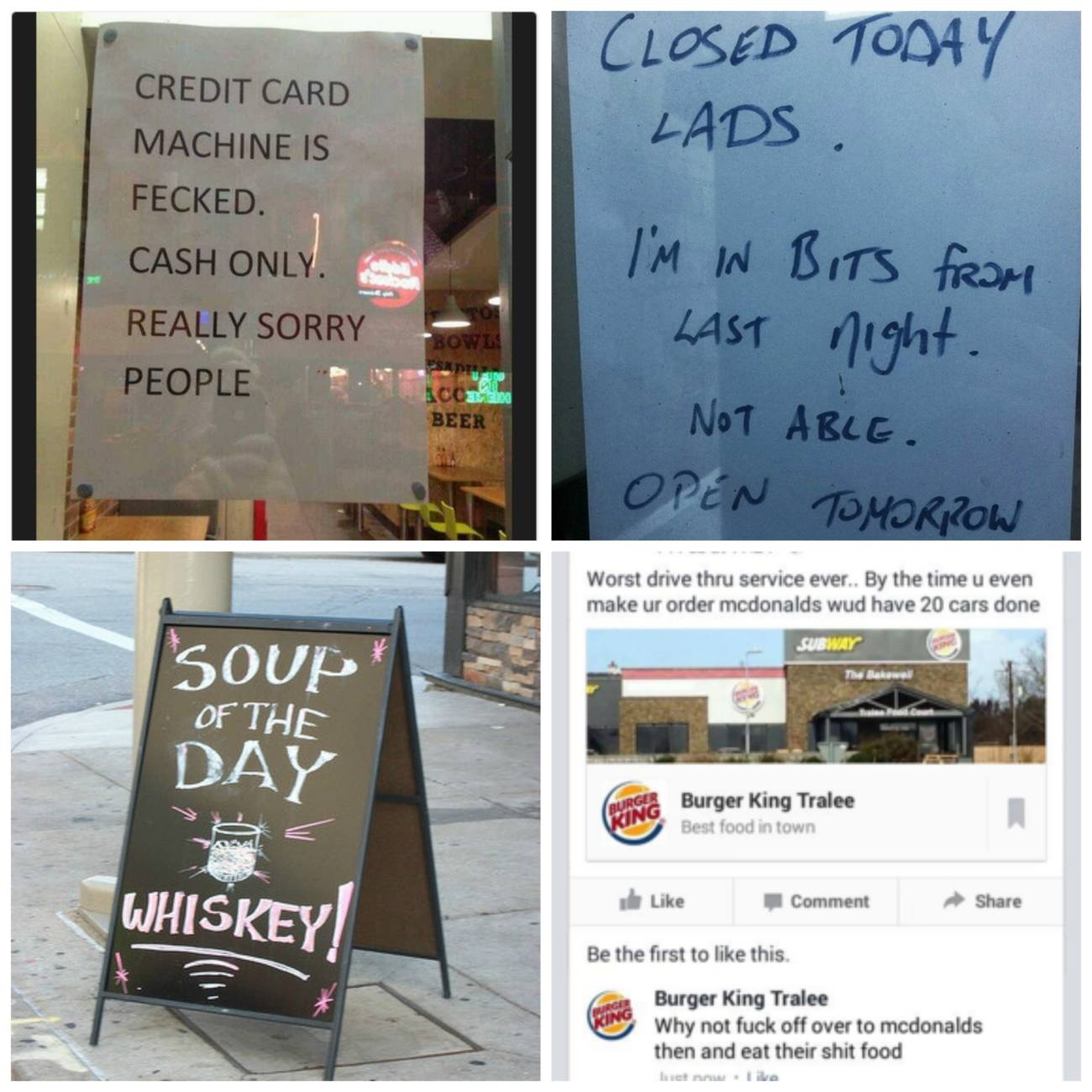 The Irish are indescribably sincere and spontaneous people and light daily swearing is just part of customary phrases that probably no one perceives as insults or offensive words. Simply it belongs to their typical irish slang and Irish atypical english.
Almost every old-school farmar owns some donkeys in Ireland. The transportation can be difficult, sometimes. However, Wonderland will handle this kind of problem very well and donkeys can fit into a car, or even in the Dublin city bus. On the road you can also meet an ambulance with advertisements for famous dark Irish beer Guinness! (btw. draft beer tastes best in the local pub)
One could be writing an endless novels about unusual things in Ireland. As the saying goes – if you do not experience it yourself, you will not believe it – in this case it is fully applicable to this unique and beautifull green country, that is full of kind-hearted and hospitable people! I LOVE IRELAND FOREVER!